White Elephant and Book Sale
These great sales are on going and benefit the library!  Our sales on Nov. 10 at the Craft Fair are enabling us to match a grant for new children's books.
Thank you to everyone who supports our wonderful library!
___________________________________________
Holiday 

Schedule
We will be closed the following days – 
Thanksgiving Nov. 22
Christmas Eve Dec. 24
Christmas Day Dec. 25
New Years Day Jan. 1
___________________________________________
Fall Events
Reeve Lindbergh on Wed. Nov. 7 at 6:30 PM
Local author, Reeve Lindbergh, will be visiting the library to talk about her wonderful new book Two Lives.
This beautiful and thought provoking books takes a close look at Reeve's public and private lives as the daughter of two very famous Americans and a regular resident of our area.
Learn more at Reeve's website and be sure to join us on Wed. Nov. 7 at 6:30 PM. Reeve will have books for you to buy and the library board will serve light refreshments.
Christmas in the Country
Craft Fair
Sat. Nov. 10 
9:00 AM to 2:00 PM
There will be over 20 crafters in attendance with a wide range of beautiful and useful gifts for sale. Christmas will be here before you know it and this is a great opportunity to BUY LOCAL!
The library is having a HUGE BOOK SALE as well as a table of Christmas decorations of all kinds for sale.  All of the library's sales directly benefit your local library so remember what nice gifts books make – for yourself as well as others!
___________________________
New Children/YA Books
We have the latest award winning children and young adult books for readers of all ages.
These book purchases are thanks to you!!  Your support and generosity are key to keeping our collections up-to-date. Thank you all so much!
Hello, Universe by Erin Entrada Kelly (2018 Newberry Medal)
Wolf in the Snow by Matthew Cordell (2018 Caldecott Medal Winner)
Piecing Me Together by Renée Watson (2018 Coretta Scott King Author Award)
We Are Okay by Nina LaCour ( Printz Award for YA Books)
Charlie & Mouse by Laurel Snyder (2018 Theodore Geisel Award for Beginning Readers)
Dorothy Canfield Fisher Books 2017-2018
The Girl Who Drank the Moon by Kelly Barnhill
The Wild Robot by Peter Brown
Crown: An Ode to the Fresh Cut by Derrick Barnes
The Poet's Dog by Patricia MacLachlan
The Inquisitor's Tale by Adam Gidwitz
Long Way Down by Jason Reynolds
Wish by Barbara O'Connor
Ghost by Jason Reynolds
Wolf Hollow by Lauren Wolk
________________________________________________
New Adult Large Print Books
We've chosen a wonderful selection of new large print books.  Our new books cover a wide variety of genres from light and fun beach reads to page turning thrillers.   Thank you very much to Community National Bank for the generous donation to our Large Print Book fund!
Please come check them out!
Exit West by Mohsin Hamid
Beartown by Fredrik Backman
Nighthawk by Clive Cussler
Norse Mythology by Neil Gaiman
Another Brooklyn by Jacqueline Woodson
Everything I Never Told You by Celeste Ng
The Woman in Cabin 10 by Ruth Ware
Truly Madly Guilty by Liane Moriarty
Lilac Girls by Martha Hall Kelly
The Secret Chord by Geraldine Brooks
The Weekenders by Mary Kay Andrews
At the Edge of the Orchard by Tracy Chevalier
House of the Rising Sun by James Lee Burke
Early Warning by Jane Smiley
Lila by Marilynne Robinson
Leaving Berlin by Joseph Kanon
Blueprints by Barbara Delinsky
The Burning Girl by Claire Messud
Damaged by Lisa Scottoline
Ashley Bell by Dean Koontz
Falling by Jane Green
The Stranger by Harlan Coben
The Breakdown by B. A. Paris
__________________________________________
New Adult Fiction Books
Come in and take out a new award winning book!
"The Sellout" by Paul Beatty (Man Booker Prize 2106)
"Lincoln in the Bardo" by George Saunders (Man Booker Prize 2017)
"The Ex" by Alafair Burke (The Edgar Mystery Award 2017)
"LaRose" by Louise Erdrich (National Book Critics Circle 2016)
"Sing Unburied Sing" by Jesmyn Ward (National Book Award 2017)
"Days without End" by Sebastian Barry (Costa Book Award 2017)
"The Glorious Heresies" by Lisa McInerney (Bailey Womens Prize for Fiction 2016)
"The Power" by Naomi Alderman (Bailey Womens Prize for Fiction 2017)
"Fate and Furies" by Lauren Goff (Indies Choice Award 2016)
"Homegoing" by Yaa Gyasi (Indies Choice Award 2017)
"Swallowed by the Cold: Stories" by Jensen Beach (The Vermont Book Award 2017)
We also have new Large Print books thanks to a generous patron gift!
"The Jewels of Paradise" by Donna Leon
"The Widow of the South" by Robert Hicks
"Blood and Beauty" by Sarah Dunant
"A Man called Ove" by Fredrick Backman
"The Switch" by Joseph Finder
____________________________________________________
Saturday Morning Storytime!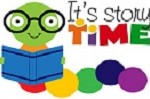 Saturday mornings starting at 10:15! Every week kids will hear a story, do a craft, and enjoy a snack.
Storytime starting Sat., Sept. 15, 10:15 AM
___________________________________________________
Shelburne Farm Family Passes are  available
If you haven't visited Shelburne Farms – here's your chance to visit for free! The library has 2 guest cards for our patrons. The passes are for free family admission to the walking trails and the Children's Farmyard for 2 adults and children under 18 years. There is a $5 deposit required to check out the cards which is refundable upon return.
_________________________________________________
Library News
Another update in our children's area is the purchase and installation of book bins.  Book bins make it easier to browse the picture books.  This helps to make the library experience more fun and also increases circulation resulting in fewer "forgotten" picture books!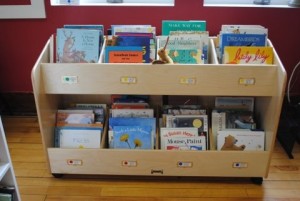 _________________________________________
Thank you so much!
All of us at the Brainerd Memorial Library would like to thank Gale Hamilton and Mary Barlow for their extremely generous parting gifts to us. Usually, it's the ones leaving who receive a gift but in their typically generous way, Gale and Mary have  given the library wonderful and exciting gifts to benefit the whole community. Our Adult Fiction collection will be enhanced by new additions – specifically chosen from literary prize lists such as the Man Booker List and the Pulitzer Prize for Fiction. Our Adult Non-Fiction collection/Local History collection  has received all four of Gerard Lamothe's books and another copy of "Village in the Hills" (which is out-of-print). These gifts are in addition to Gale and Mary's many, many hours of help and service to the library and the people of North Danville. We are so grateful and we will all miss you very much! _______________________________________
Museum and Park Passes
We have summer passes for Vermont State Parks available for check out. Each pass allows free entry into any state park day use area for one vehicle with up to 8 people. Passes can be used from 10 A.M. to sunset. We have a pass for free entry into any Vermont Historic Site for up to 8 people in one vehicle. An ECHO Museum pass is also available for check out. This pass allows Brainerd Memorial Library patrons reduced admission: $4 dollars for up to 4 people. These passes are very popular, especially during the summer so calling ahead to reserve is a good idea.
  ___________________________
Have you seen the beautiful children's room chairs?
These adorable children's chairs have been sponsored by friends and neighbors of the library in memory and/or in honor of family members and loved ones. These vintage chairs have been beautifully painted by the very talented folks at Idle Time Crafts in Norton, Vermont.  If you are interested in sponsoring a chair, we have just a few available. Please call Liz Sargent at (802) 748-1456 for more details.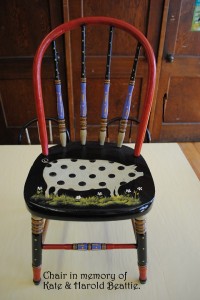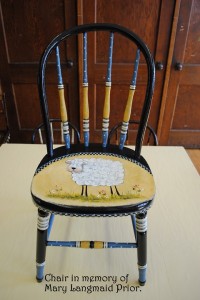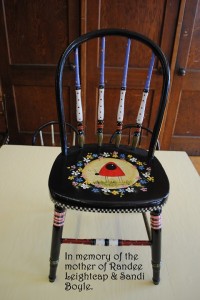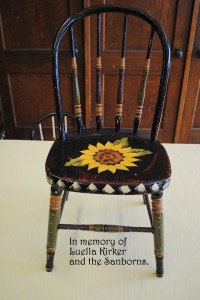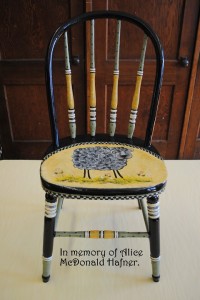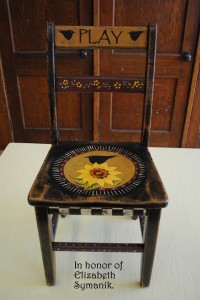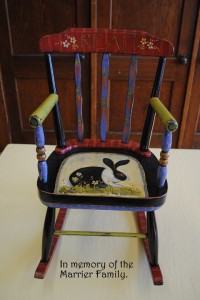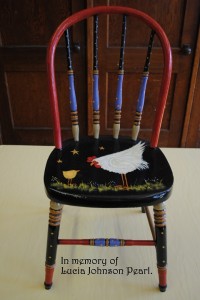 _____________________________________________
THE NEW LARGE PRINT BOOKS ARE HERE!! Thanks to a generous donation from Community National Bank, we were able to update our Large Print collection with exciting fresh titles. Please come in and take a look at our great collection of Large Print books! New titles: Corduroy Mansions (Book1) by Alexander McCall Smith The Dog who Came in from the Cold (Book 2) by Alexander McCall Smith A Conspiracy of Friends (Book 3) by Alexander McCall Smith Ready to Die by Lisa Jackson The Rebellious Life of Mrs Rosa Parks by Jean Theoharis Sing You Home by Jodi Picoult Lone Wolf by Jodi Picoult A Turn in the Road by Debbie Macomber No. 1 Ladies Detective Agency (Book 1) by Alexander McCall Smith Tears of the Giraffe (Book 2) by Alexander McCall Smith Seabiscuit by Laura Hillenbrand The Goodbye Quilt by Susan Wiggs Cop Town by Karin Slaughter The Monuments Men by Robert M. Edsel The Boston Girl by Anita Diamant When Breath becomes Air by Paul Kalanthi The Signature of All Things by Elizabeth Gilbert Bettyville: A Memoir by George Hodgman The Wright Brothers by David McCullough Cold Cold Heart by Tami Hoag We Never Asked for Wings by Audrey Diffenbaugh The Marriage Game: A Novel of Queen Elizabeth  I by Alison Weir The Little Paris Bookshop by Nina George Gathering Prey by John Sandford
_______________________________________________
STILL AVAILABLE  at the library: •  Check out a Vermont State Parks Access Pass: allows up to 8 people in one car FREE access. •  Check out a Vermont State Historical Site Pass: allows up to 8 people in one car FREE access. •  Check out ECHO Lake Aquarium and Science Center Access Pass; allows up to 4 people entry at the REDUCED rate of $4.00 per person. •  Knitting Group Wednesdays 6 p.m. to 8 p.m.  Bring any hand work and join in.

 North Danville Brainerd Memorial Library on Facebook.